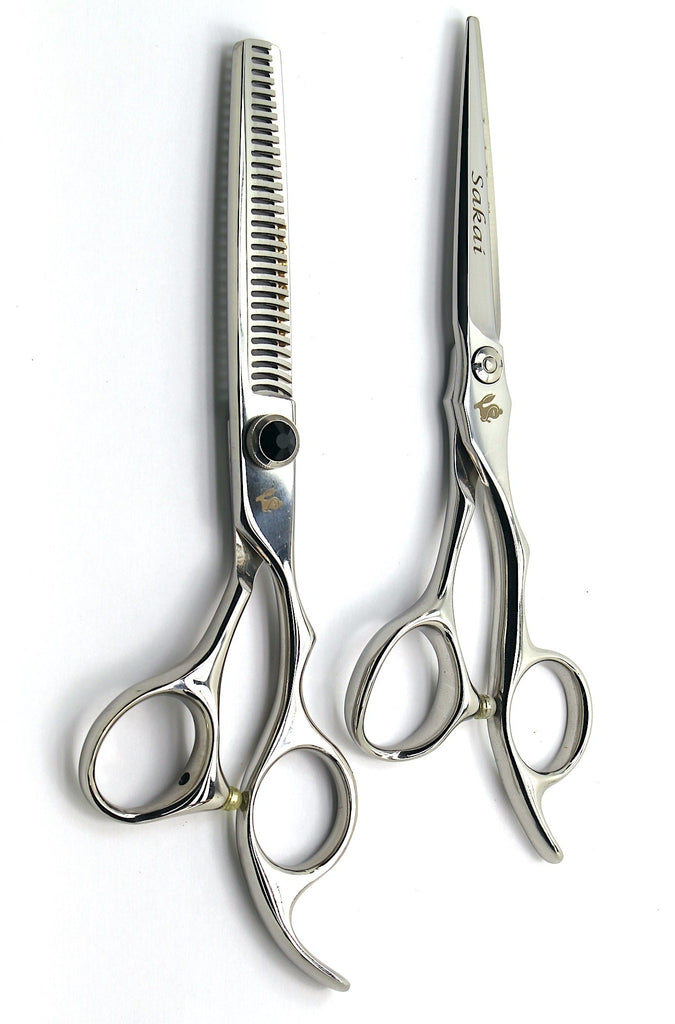 Lucky Hare Shears
Sakai SK-8N & KT-1 DT 30T Premier Combo ~ Shear & Thinner Combination
---
Save $100 when purchasing as a combination this set of our top of the line shear and thinner.  The set includes our top of the line SK-8N straight shear with sculptured fixed finger rest and the KT-1 DT 30T thinning shear with 30 teeth.  Choose between straight shear length options of 5.5", 6.0", 6.5", 7.0".  These are two of our highest quality and most beautiful shears at an incredible price when purchased as a combination.    
Straight Shear:  The Sakai SK-8N is Lucky Hare's premier quality shear. It is elegantly hand-forged from the newest and most advanced Japanese Hitachi cobalt stainless steel, to take and retain the ultimately durable razor sharp edge.  Customers that purchase this shear absolutely rave about its silky smooth cutting action, balance, and its durability years afterwards.  This is an incredible value in a shear that can stand side by side with any premium shear in the market.  You will not be disappointed. 
Thinning Shear:  The KT-1 DT 30T is are most popular thinning shear.  With 30 teeth on both blades these thinning shears do not leave lines as traditional thinners do and you can also conveniently comb out with the blades closed in any direction.  This thinning shear revolutionizes the process of soft finishing and blending.  They eliminate time consuming feathering and blending to mask the lines and create looks that appears to have just grown into shape with no lines. 
This top of the line thinning shear is elegantly hand crafted to give an unsurpassed feel and balance.
Blade Design:  The cutting blades are forged and finely polished into the traditional and popular Japanese convex edge and are hollow-ground on the inside of each blade to give a razor sharp cutting action day in and day out. 
Handle Design:  The handles are "offset" and ergonomically contoured for holding the shears in a more natural and comfortable hand position. This puts less stress on the thumb tendon and helps reduce the risk of repetitive motion CTS.
Adjusting System: A traditional decorative knob with an internal clicker plate allows for easy adjustment without a tool and holds the desired tension setting securely.
Removable Finger Rest:  A sculptured permanent finger rest is deftly curved for comfort and is not removable.   
Sculptured Handle:  The shank of the handle has been contoured to provide a "groove" for the middle finger and the index finger to create more control and feel.          
---
Share this Product
---
More from this collection